Achieving a beautifully landscaped yard does not require homeowners to invest endless hours of sweat equity every weekend. On t­­he contrary, a front yard landscaping service can handle the design and details of such a project, including the plants that will go into the ground! Our landscape professionals can offer exciting ideas such as placement of boulders to complement softscapes, adding hardscapes to reduce the need for weeding, and planting native species with mulch so that it requires little maintenance. After installation, regular watering is still needed to promote healthy root establishment, but you will find that your natives take off on their own soon after.
Fairfax, VA, residents can turn to Northern Virginia Landscaping for their front and backyard landscaping needs. We work diligently with property owners to create an eye-catching color palate with landscape plants, hardscapes, and more. Our team of experts understands that working families live busy lives and value their relaxation time, so we provide high-quality services that make community members proud of their homes. Call (703) 982-0100 and tell us about your dream yard.
Flowering Native Plants that Reduce Gardening Effort
Planting species native to Virginia in your yard offers a host of benefits. First, they are adapted to and flourish in this climate, which imported ornamentals may struggle in. Local wildlife also finds these species attractive, allowing you to watch pollinators visit your yard.
The following native plant species are popular in Virginia:
Black-eyed Susan: A favorite that homeowners often purchase at garden shops or grow from seed, the Black-eyed Susan is among the hardiest flowering native plants. Resembling a sunflower with its yellow petals and dark center, it grows from 1-3 feet tall and clusters naturally. They are pollinator-friendly during the spring and summer.
Columbine: This showy plant looks fantastic in front yard gardens thanks to its distinctive red and yellow flowers. The columbine blooms from April through May and reaches 1 to 3 feet high. It excels in rocky soil and attracts butterflies, bees, and hummingbirds.
Eastern Rose-Mallow: This full-to-partial sun plant can grow 7 feet tall and produces creamy-white blooms from July through September. It can thrive in traditionally wet areas where other species may struggle. It also tends to attract hummingbirds.
Ox-eye Sunflower: Growing up to 5 feet tall, the ox-eye sunflower produces vibrant yellow flowers from June through September that attract pollinators such as butterflies and honeybees. It does best in full or partial sun with only moderate watering. If you have rocky soil and clay, ox-eye sunflower may be a suitable native plant for your front yard.
Threadleaf Coreopsis: Up to 3 feet in height, depending on how it's integrated into a landscape, coreopsis produces fetching yellow blooms from June through September. It handles loamy, rocky soil like a champ and attracts butterflies and bees.
Turtlehead: Reaching 2-3 feet in height, Turtlehead produces pink or white flowers similar to snapdragons. Blooming from August through October, it likes moist or wet soil in areas that receive partial sunlight.
Virginia is also home to charming trees, shrubs, grasses, and sedges. Among those valued landscape plants is pink muhly grass which grows in clumps with arching foliage and a purple-pink hue. It requires well-drained soil and often appears as a backdrop for flowers. Similarly, giant plumegrass reaches 10 feet and showers landscapes with billowing plumes that turn burgundy in the fall. It's perfect for defining boundaries or splashing color in front of fences and wild growth areas.
High-Value Front Yard Landscaping that Fairfax, VA, Residents Deserve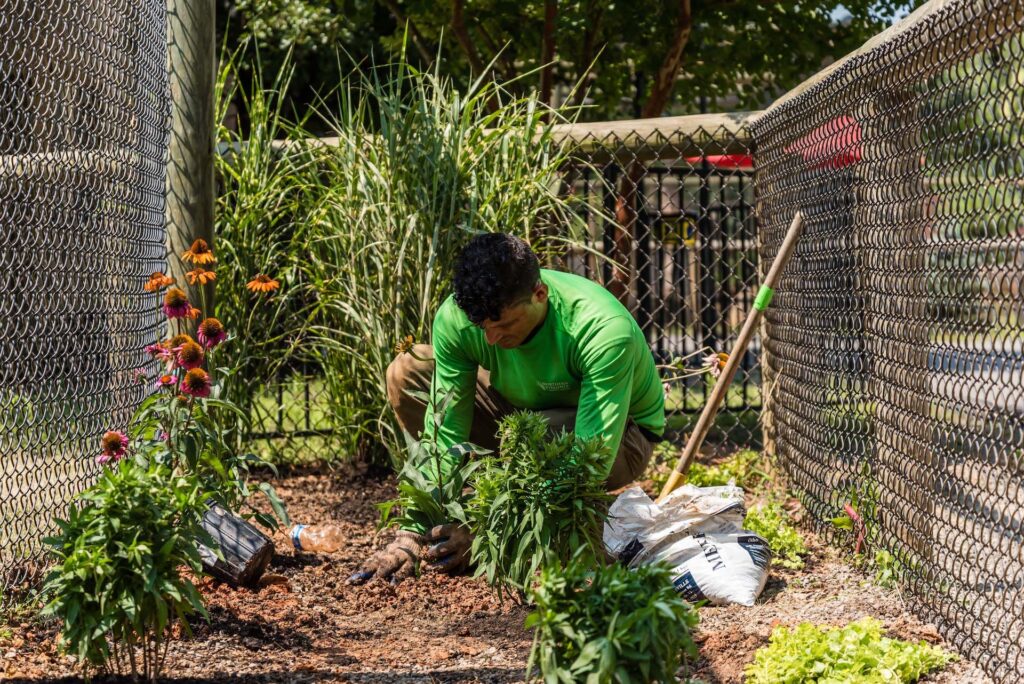 The Northern Virginia Landscaping team helps Fairfax, VA, residents to re-imagine their front and backyards with flowering plants, lush grasses, shrubberies, and blooming trees. We listen to your front yard landscaping ideas and suggest natives and other hardy options. If you are considering making your landscape better reflect your taste, our team of experts is ready to help. Call (703) 982-0100 today and describe your gardening ideas so we can get started.