One of the best ways to give back to Mother Nature is by planting trees. It's one of the easiest actions you can perform to positively impact the environment. Trees are essential to our atmosphere because they produce oxygen and absorb just as much carbon dioxide, thus fighting global warming. They also provide shade, as well as nourishment and shelter for animals.
We at Northern Virginia Landscaping perform satisfactory front yard landscaping for residents in Clifton, VA, and we believe that taking care of the Earth can start by taking care of our home's landscape. As professionally experienced landscapers, we have a concrete understanding of our responsibility towards our homes and the environment they are in should work together. So when we're building, we make sure that we don't interrupt any residents or wildlife. Below, we list 6 benefits as to why you should begin planting trees:
1. Combating Climate Change
When you plant trees, you make a difference by reducing the excess carbon dioxide in the atmosphere. As you might already know, photosynthesis is when trees absorb carbon dioxide and other harmful toxins in the air, and when they release oxygen, it further purifies our atmosphere. It's estimated that even one tree can absorb as much as 10 pounds of polluted air each year and releases about 300 pounds of oxygen.
2. Prevent Soil Erosion and Runoff
Planting a number of trees in your landscape will not only create a more attractive and organized outdoor space, but it will also reduce the amount of water runoff, and thus prevent erosion from occurring. During heavy rainstorms, excess water seeps into the soil and can cause water damage to your foundation if your soil is in poor condition. But trees help with this concern because their canopies can buffer falling rain. Their roots also hold the remaining soil in place, keeping excess water from your home.
3. Save Money & Increase Value
Adding trees to your property can save you more money than you would expect. During the hotter months, trees provide shade and help keep your property and home cooler. This means that you'll be spending less money on heating or cooling in your home. As far as your home value goes, trees can increase it by 15% since they provide exquisite curb appeal and natural beauty to your yard.
4. Attract Animals
If you're interested in supporting the wildlife around you, then planting trees is a great idea. Trees provide nesting sites for birds, squirrels, and other animals. In the trees' branches, you can hang bird feeders or corn and peanut butter apples dipped in seeds. You can also attach a birdhouse to the tree to offer the birds a safe place to stay.
5. Boost Mental Health
According to a study done by the University of Wollongong in Australia, researchers found that trees in urban areas help with depression and anxiety. Trees improve mental health so much so that those with trees near them or in walkable distance from them, are less susceptible to developing psychological disorders.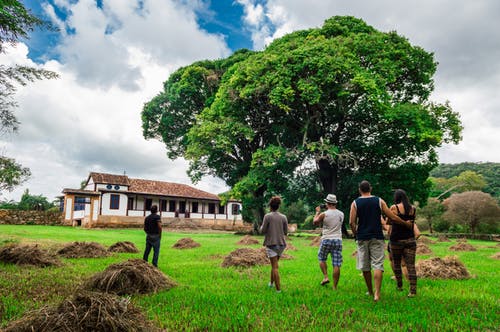 6. Giving Back
If you're looking to give back to your environment and community, then planting trees is a step in the right direction. With the proper care and conditions, a tree can last hundreds of years, which will benefit our environment in the long run.
Work With An Experienced Front Yard Landscaping Company in Clifton, VA
Planting trees can make a significant impact for the environment, but it can also transform your home's landscaping as well. Through our numerous landscape design and construction services, Northern Virginia Landscaping prides itself on completing projects that satisfy our customers. We can assist you with high-quality front yard landscaping in Clifton, VA, to ensure that your property looks beautiful and organized. We can help you determine which services can bring out the best in your landscape and help sustain the environment at the same time. Contact us at (703)-982-0100 to learn more about our services.